Annual Galaxy Wine & Food Festival - Saturday, November 25, 7:00 PM
The Galaxy Restaurant's Premier Holiday Wine Tasting & Food Festival!
This grand wine tasting event is our annual showcase of the years most exciting wines from our best distributors paired with an exquisite offering of culinary food selections from Executive Chefs Brian Jones and Steve Levers. We offer great wines ranging in price from $10 to $100, ensuring that both new and familiar regions, producers, and varietals will be offered. Over 100 wines will be poured, all meticulously selected offerings intended to showcase some of the best wines available in the entire state, both old favorites and new discoveries. 100 Wines, Great Food, Live Music, Cooking Demos, Auctions, it's all here on Nov. 25th.
Event Highlights:
* Over 100 wines to taste and sample from all over the world including many higher end selections.
* Great Food - Extensive Hor d'Oeuvres stations throughout the space, a wine/food tasting pleasure process, if you will!
* Live music with Amanda Stefanik Trio 7PM - 10PM
* Cooking demonstrations
* Blind Tasting Table
* Silent Auctions with large bottle formats of great wines, (Proceeds benefit the Salvation Army).
* Wine Store: All tasting wines sell at State minimum prices, 10% off cases.
...Imagine casually strolling around tasting great wines and cuisine at your leisure, listening to the sounds of the live music... Come join in the fun, learn, watch, taste, smile, enjoy.
Times: 7PM-10PM.
MENU
CHEESE, FRUIT, CHARCUTERIE:
*Fresh fruit and berries
*Baked Brie en Croute
*Artisan cheese display with breads & crackers
*Charcuterie (assorted meats)
Seafod STATION ONE: (Action Station)
*Sesame-ginger tuna poke in bucci cups
*Lobster risotto - Slow simmered Arborio rice with chopped cold water lobster meat and langoustines. Finished with Parmesan cheese and a pinch of saffron.
*Sautéed Shrimp Bruschetta - sautéed with garlic-herb butter and served on crostini with tomatoes, basil and garlic.
Salad STATION TWO:
*Fresh Beet Salad - Roasted beets, creamy goat cheese and toasted walnut served over mixed greens with lemon beet vinaigrette.
Beef STATION THREE: (Action Station)
*Circle L Beef Wellington - Beef tenderloin rolled in Dijon mustard and mushroom duxelle. Wrapped in prosciutto ham and puff pastry; Baked golden brown. Finished with green peppercorn demi glace.
*Roasted fresh Brussel sprouts with garlic and butter.
Pasta STATION FOUR:
*Fried cheese Ravioli hand breaded and cooked to golden brown; Served with marinara.
*Garlic Bread and peppers in oil
*Lamb STATION FIVE:
*Firecracker New Zealand Lamb chops rubbed with spicy and smokey "firecracker" rub.
*Horseradish Cheddar Mashed potatoes
DESSERT:
*Assorted Petit Fours & cupcakes, Cheesecake and Chocolate
===================================================
Reservations for the Grand Wine Tasting Festival: $75 per person.
Please note: This is a walk around event, however we provide plenty of seating but it is not reserved. dress is casual. Thank you.
Hotel Packages: We are featuring great hotel room packages with the Holiday Inn Express and Comfort Inn & Suites this evening. Ask for the Holiday Wine Festival Rate.
Holiday Inn Express Hotel & Suites @ 330-334-7666. ($79)
Comfort Inn & Suites @ 330-336-7692. ($69)
Make your grand wine tasting reservations today for the best wine tasting in the Akron Ohio area!
Don't miss the annual holiday wine tasting at the Galaxy Restaurant in Wadsworth. It's all waiting for you at this years grand wine tasting festival.
Cheers!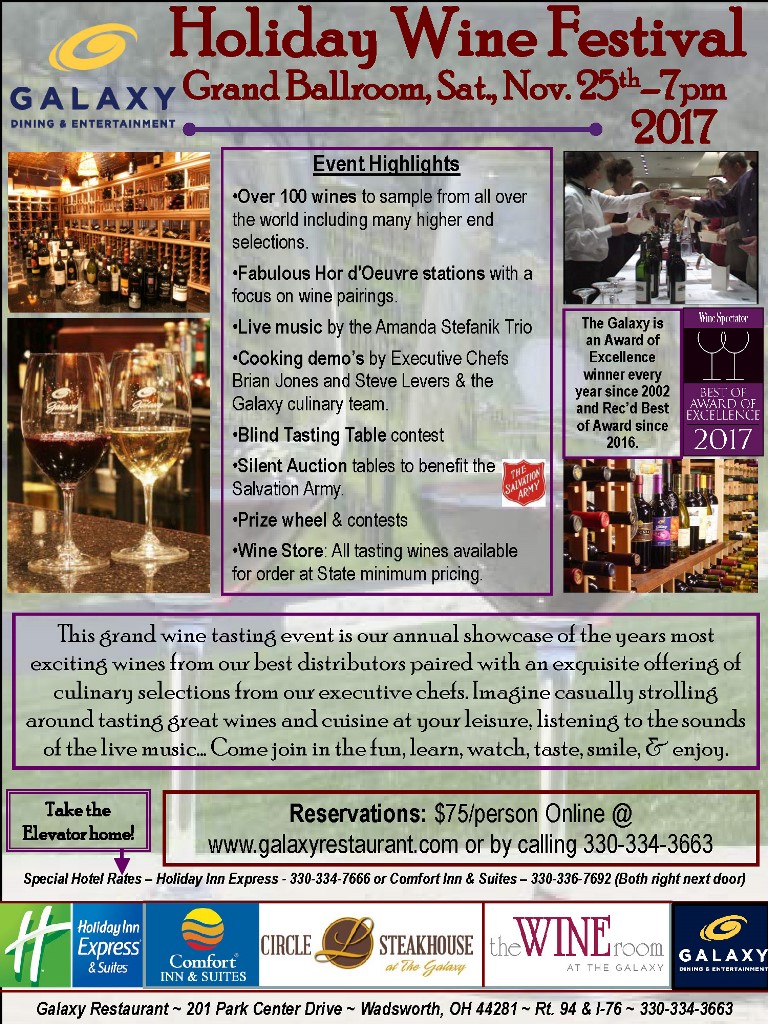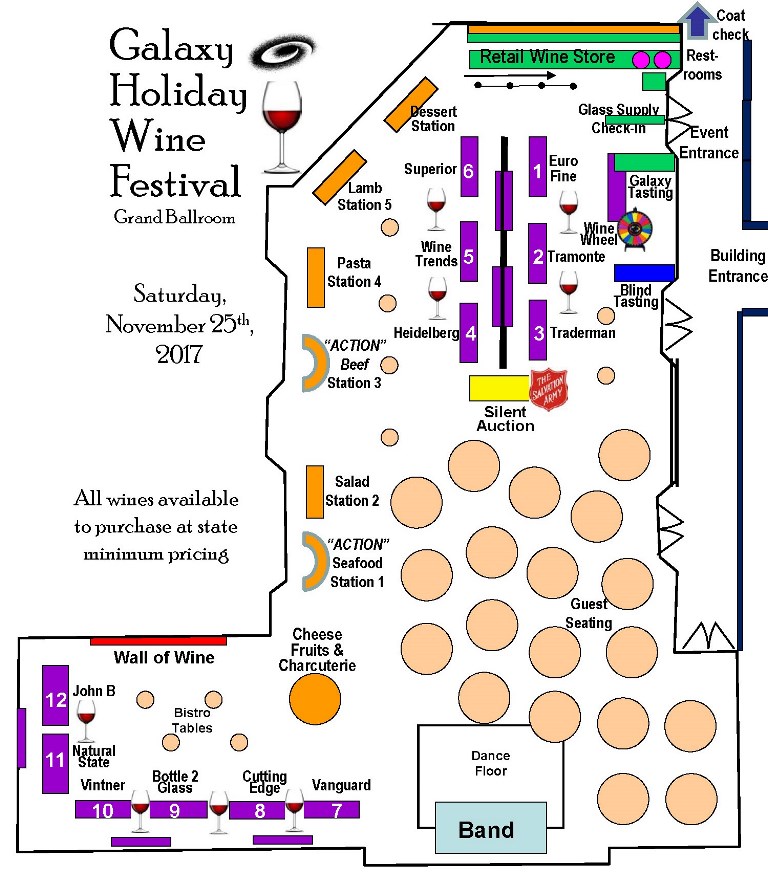 Ticket Information
To view available seats and/or purchase tickets for this event, please enter the number of tickets and press the 'Continue' button.