Viberti Wine Dinner - Tuesday, October 03, 6:30 PM
Join us for a special Viberti Italian Wine Dinner on Tue, Oct 3rd, 6:30p in the Cellar Room at the Galaxy. We will offer a 5 course dinner prepared by Executive Chef Sam Peterman paired with Viberti wines.
Arrival:
Viberti Chardonnay Filebasse 2022
Course One:
Wine: Viberti Chardonnay Filebasse 2022
Food ~ Clams alle Vongole: fresh clams tossed with garlic, white wine, lemon
Course Two:
Wine: Viberti La Gemella Barbera d'Alba 2021
Food ~ Eggplant NapoleonSlices of roasted eggplant and tomatoes, stacked between mozzarella
Course Three:
Wine: Viberti "II Publicano" Dogliani DOCG 2021
Food ~ Circle L Braised Short Rib Pappardelle, braised in a tomato & red wine sauce, tossed with pappardelle ribbons & topped with parmigiano
Course Four:
Wine: Viberti Bricco Airoli Barbera d' Alba DOC 2019
Food ~ Duck al Vino Rosso: Seared marinated duck breast with red wine reduction, savory sweet potato mashed, romanesco

Course Five:
Wine: Viberti Buon Padre Barolo DOCG 2018
Food ~ Beef Tagliata: Circle L Ribeye with balsamic glaze, creamy sun-dried tomato risotto and arugula.

Dessert - Dolce Tiramisu and espresso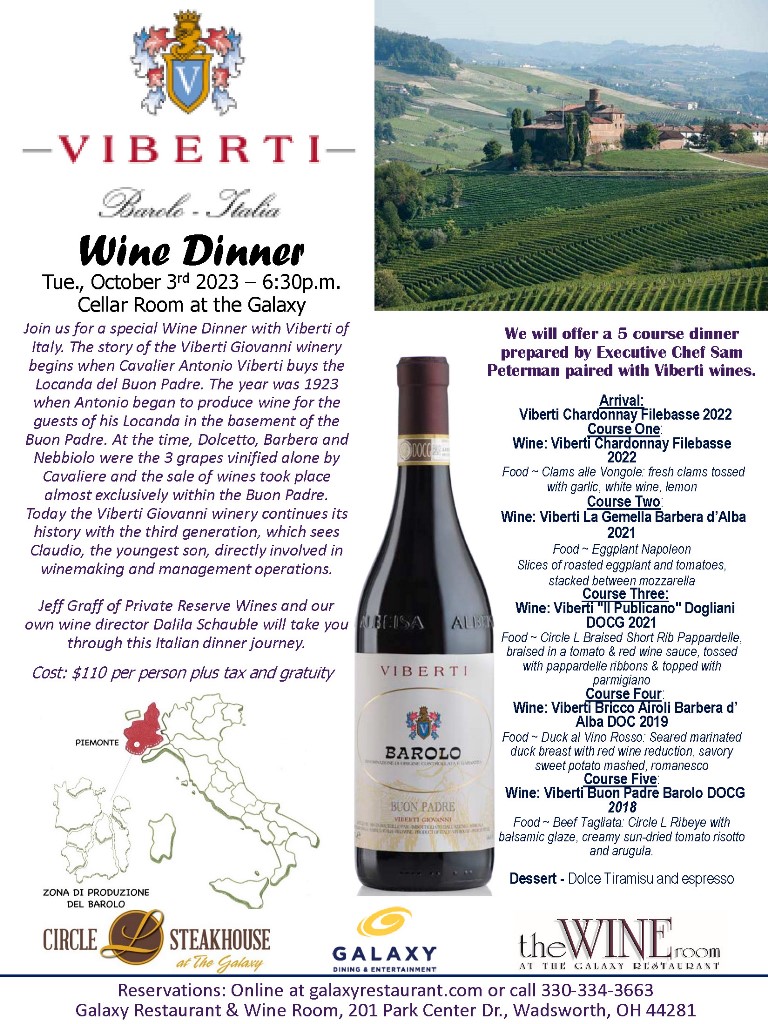 Ticket Information
To view available seats and/or purchase tickets for this event, please enter the number of tickets and press the 'Continue' button.