Dinner Show - Rumours Fleetwood Mac Trbute - Friday, October 02, 6:00 PM - Friday, October 02, 6:00 PM
Join us for a special dinner show with Rumours, Ohio's premier Fleetwood Mac tribute band. Tickets are on sale now.
Ticket price includes a served dinner. You can buy tickets online and select your table.
Please note for safety we are only allowing one party per table. There is 6 ticket minimum purchase per table to maximum of 10 per table/per group. The exception is unless you are joining friends already purchased/seated at a particular table, and wish to join their group. Please list any group connection notes within the order so we can ensure one group per table. We will also have all tables socially distanced and use social distancing measures at the cash bars and with navigation around the room. Sanitizer will be supplied at every table. Thank you in advance for helping us in this process to keep our events safe.
Schedule:
6PM - Doors open, cash bars
6:30PM – Served Dinner
7:30PM – Rumours Fleetwood Mac Tribute
Dinner Menu: Duet Dinner of Top Sirloin with Bordelaise and Chicken Piccatta, served with butter whipped mashed potatoes and green beans.
Dessert: Triple Layer Chocolate Cake
As always, if you have questions please contact us, we will be happy to assist.
Shelbie Johnson - Banquet Director
shelbiej@galaxyrestaurant.com
330.334.3663, ext. 210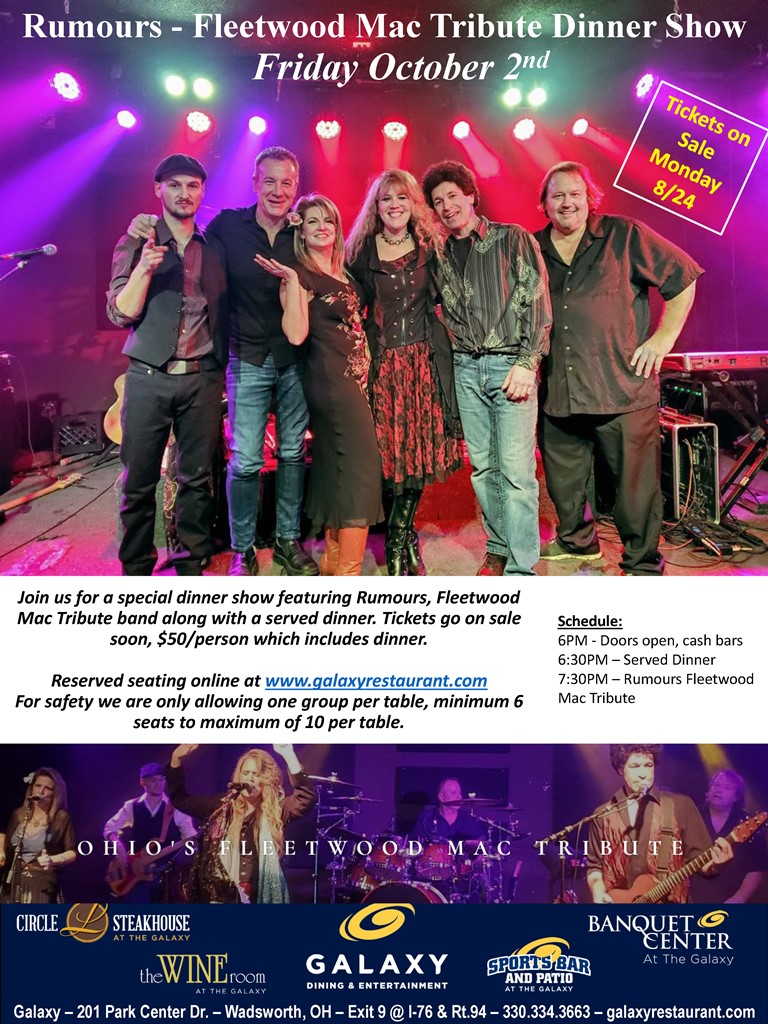 Ticket Information
To view available seats and/or purchase tickets for this event, please enter the number of tickets and press the 'Continue' button.