Diamond Project Dinner Show - A tribute to Neil Diamond - Saturday, February 15, 6:00 PM
Join us for a special dinner show featuring the Diamond Project, a Neil Diamond tribute. Tickets are on sale now $50/person. www.galaxyrestaurant.com
Schedule:
6PM - Doors open, cash bars all evening
7PM - Dinner buffet
8PM - The Diamond Project
Intermission 9PM to 9:30PM
9:30PM – The Diamond Project, Second Set
THE MUSIC OF NEIL DIAMOND - Welcome to The Diamond Project Band, dedicated to performing a true replication of the musical styling of a live Neil Diamond concert. Rather than give the audience a straight studio version of Neil's classics, they strive to incorporate the EXCITEMENT, ENERGY AND MUSICIANSHIP THAT ONLY A LIVE SHOW CAN PROVIDE. They will leave you with the satisfaction that you have experienced a true and well deserved tribute to one of America's foremost talents... Neil Diamond!
Dinner Buffet Menu: We will be offering a great dinner buffet:
HORS D'OEUVRES - 6:00pm-7:00pm
Cheese platter
Roasted Red Pepper Hummus
Salad
Served tossed garden salad with with house and Balsamic Vinaigrette dressings
Buffet Dinner:
Fresh Green Beans, Smashed redskin potatoes, Tri-colored Tortellini w/ Marinara sauce, Chicken Marsala, Chef Carved Prime Rib w/ Au Jus & horseradish cream
Dessert: Triple Layer Chocolate cake
Cash Bars available all evening.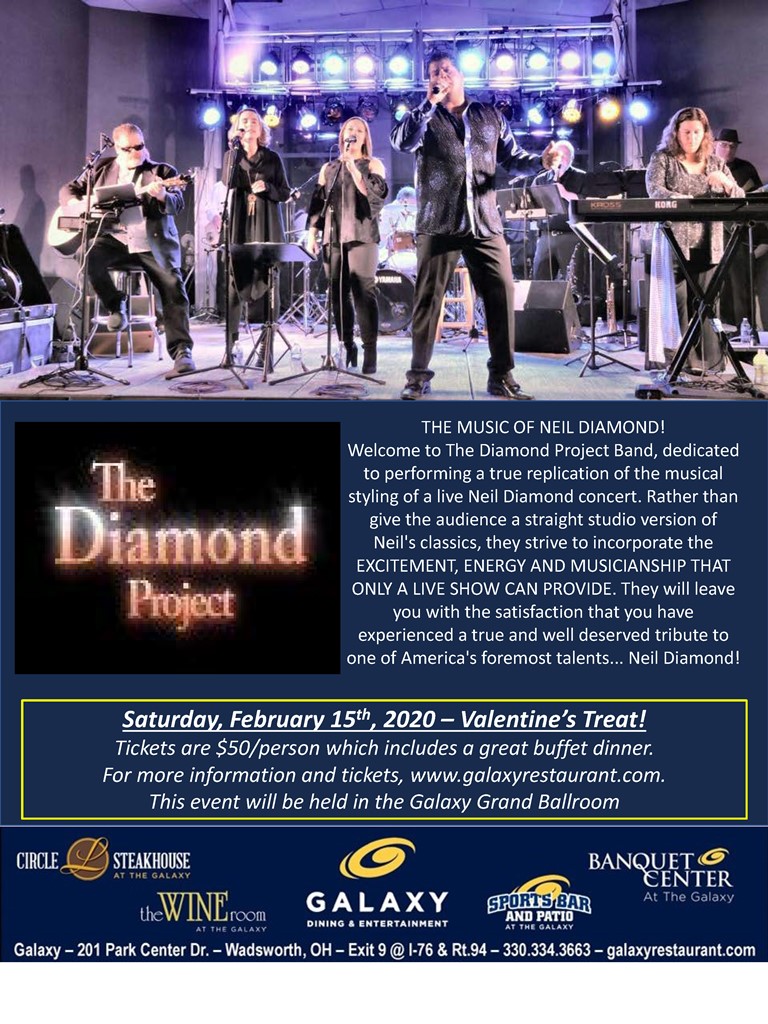 Ticket Information
To view available seats and/or purchase tickets for this event, please enter the number of tickets and press the 'Continue' button.