Burgess Wine Dinner Wed Sept 25th - Wednesday, September 25, 6:00 PM
Join us for a special wine dinner with Burgess Cellars of Napa Valley. Steve Burgess, owner of the winery will be attending the dinner and talking about his family wines that have been produced since 1972.
We will offer a great 5 course dinner paired with Burgess wines.
Cost: $95/person plus tax and gratuity. Click below to put your name on the reservations list.
MENU
Arrival Wine: Burgess Chardonnay 2016
Food Pairing: Artisan cheeses & Fruit
Course One: Wine: Burgess Chardonnay 2016
Food Pairing: Seared Scallop, butternut puree, pommes rissoles, wilted spinach
Course Two: Wine: Burgess Topography Red Blend 2014
Food Pairing: Portobello ravioli, herbed truffle cream, parmesan
Course Three: Wine: Burgess Cabernet Sauvignon 2014
Food Pairing: Lamb Ossobucco, creamy sage polenta, roasted baby carrots, gremolata
Course Four: Wine: Burgess Reserve Cabernet Sauvignon 2013
Food Pairing: Circle L Filet, seared Foie Gras, pomme purèe, roasted shallot Bordelaise
Course Five Dessert: Wine: Debonne Vineyards Ice Wine
Food Pairing: Crème Chantilly, fresh berries, baby mint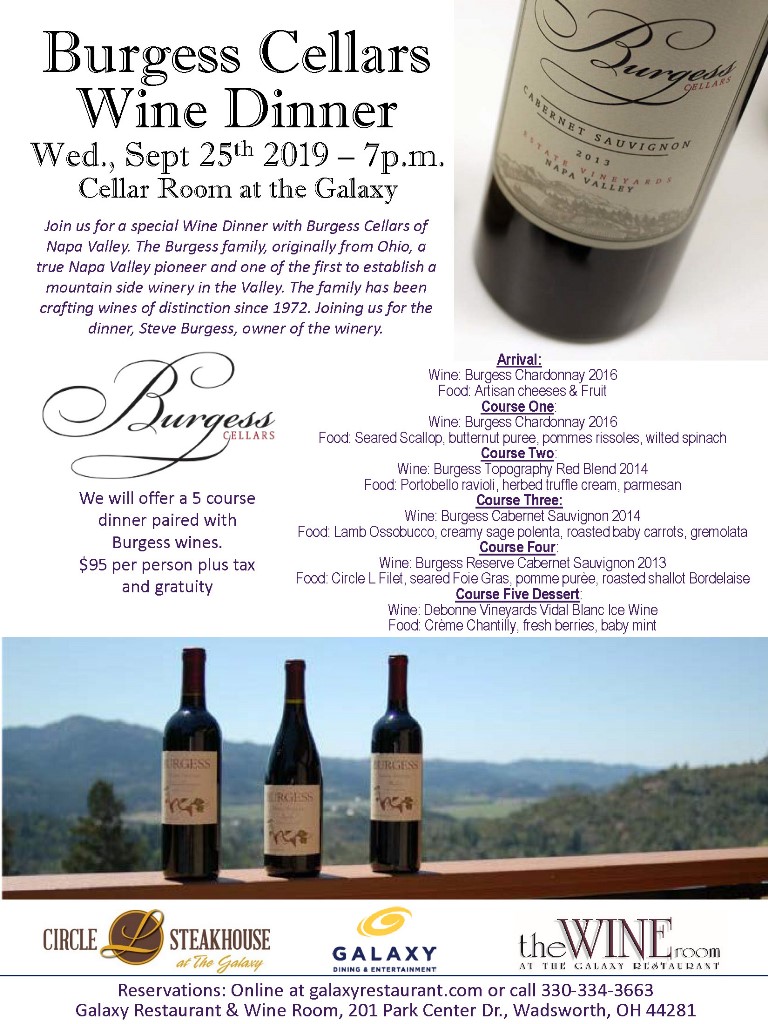 Ticket Information
To view available seats and/or purchase tickets for this event, please enter the number of tickets and press the 'Continue' button.