Jersey Beat Band - Four Seasons Tribute Dinner Show - Saturday, August 04, 6:00 PM
Join us for a special dinner show featuring the Jersey Beat Band, a Four Seasons tribute. Tickets are on sale now $45/person. www.galaxyrestaurant.com
Schedule:
6PM - Doors open, cash bars all evening
7PM - Dinner buffet
8PM - Jersey Beat Band, First Set
9:30PM – Jersey Beat Band, Second Set
The Jersey Beat Band is a Frankie Valli and The Four Seasons Vegas Style Tribute. Take a step back into the past listening and singing along to the sounds of one of the best vocal groups of its time.....Frankie Valli and The Four Seasons. The music, lead vocal and harmonies will definitely have you wanting for more. We do not use backtracking for any of the music or vocals on Frankie Valli songs. Remember the songs of the past and enjoy yourself with an evening of entertainment from this wonderful music group.
Dinner Buffet Menu: We will be offering a great dinner buffet:
HORS D'OEUVRES - 6:00pm-7:00pm
Fresh fruit platter
Spinach & Artichoke dip w/ Pita & Tortilla Chips
Fresh vegetables w/ dip
MENU - 7:00pm Dinner Stations
Salad Station
Tossed garden salad w/ assorted toppings w/ House and Balsamic Vinaigrette dressings
Broccoli , Bacon & Cheddar salad
Pasta Station
Cavatappi, Penne and sausage ravioli with Marinara, Alfredo and roasted red pepper cream sauce
Garlic Bread
Carving Station
Chef Carved Prime Rib w/ Au Jus & Horseradish cream
Smashed redskin potatoes and Steamed green beans
Dessert Station
Assorted pastries and cookies
Cash Bars available all evening.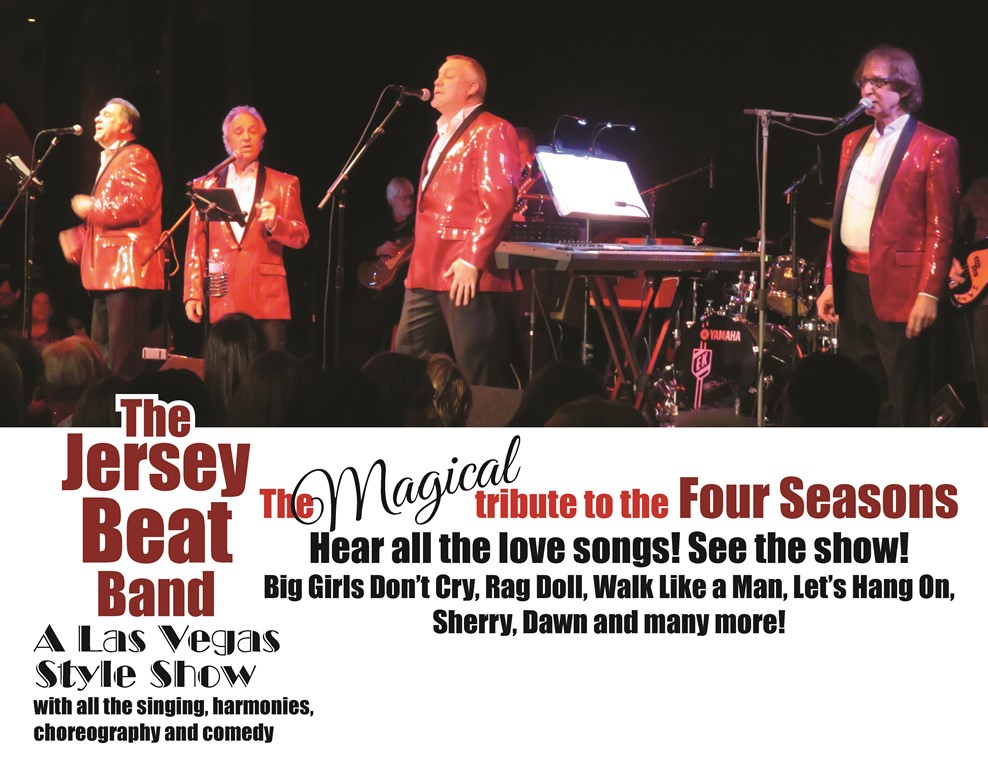 Ticket Information
To view available seats and/or purchase tickets for this event, please enter the number of tickets and press the 'Continue' button.