Pajama Party Murders- Mysteries By Moushey - Saturday, November 02, 6:00 PM
The Galaxy Restaurant and Mysteries by Moushey presents, "Pajama Party Murders", a murder mystery dinner.
Tickets are $50/person and include a fabulous buffet, cash bar and entertainment.
To add to the fun, attendees are encouraged to wear their pajamas or robe, as this is an interactive dinner show
Saturday November 2nd, 2019
Doors open at 6:00pm-Cocktail hour, Hors d'oeuvres and circulating with the family.
Dinner at 7:00 p.m.
Show at 8:00 p.m.
Clue Hunt and Dessert and Deliberations at 9:30-ish
Solution will be played out when all solutions have been collected.
Hors d'oeuvres: Galaxy spinach & artichoke dip, sweet & sour meatballs and fresh fruit
Dinner: Tossed garden salad, assorted rolls & butter, roasted fresh vegetables, smashed redskins, rigatoni w/ marinara, chicken piccata, and Chef carved beef strip loin, w/ Au jus and Horseradish cream
Dessert: Chocolate Mousse Cake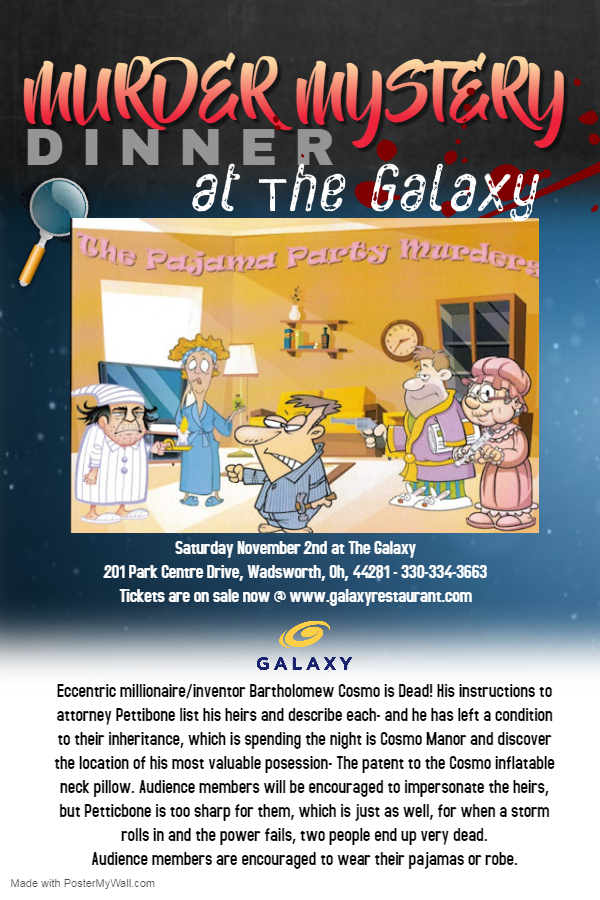 Ticket Information
To view available seats and/or purchase tickets for this event, please enter the number of tickets and press the 'Continue' button.