Murder Mystery Dinner - Wake the Dead - Friday, April 13, 6:00 PM
The Galaxy Restaurant and Mysteries by Moushey presents, "Wake the Dead", a murder mystery dinner.
Tickets are $50/person and include a fabulous buffet, cash bar and entertainment.
Friday the 13th of April, 2018
The family of poor, dearly departed Patrick Joseph Patrick gathers to mourn that darlin' man, but, like most Irish wakes, this one ends up in a real donnybrook. Besides the grieving, overbearing widow, the matriarch, Bridget, there is her oldest, Seamus, her favorite child, Daniel, Daniel's wife Maureen, and Bridget's youngest son, Martin, the "almost" priest. The only one missing is Daniel's twin, Donald. He's represented at the wake by his American wife, Maggie. When one of the party joins poor, dead Patrick during the wake, the investigation begins, including a visit to the crime scene.
Doors open at 6:00pm-Cocktail hour, Hors d'oeuvres and circulating with the family
Dinner at 7:00 p.m.
Show at 8:00 p.m.
Clue Hunt and Dessert and Deliberations at 9-ish
Solution will be played out when all solutions have been collected.
Tickets available online by clicking below, choose your table and seats. For more information please call us at 330-334-3663.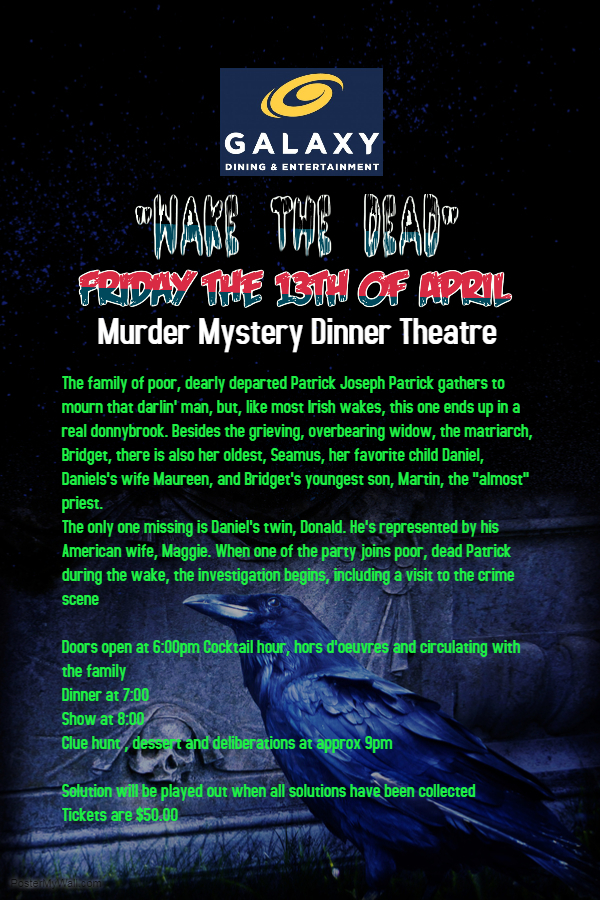 Ticket Information
To view available seats and/or purchase tickets for this event, please enter the number of tickets and press the 'Continue' button.