RESCHEDULED - Hoppin Frog Brewery Beer Dinner 7PM - RESCHEDULED FOR FRIDAY 11/17 - Friday, October 20, 7:00 PM
PLEASE NOTE THIS EVENT HAS BEEN RESCHEDULED FOR FRIDAY 11/17.
Please join us FRI, October 20th 7pm as we combine our efforts and passion about food and beer with Hoppin Frog Brewery, offering a 5 course meal paired with great Hoppin Frog beers.
Price is $59, plus tax and gratuity. You can put your name on the list at galaxyrestaurant.com, or call 330-334-3663. CHEERS!
Payment for the event is not required until the night of the event. Guests will receive a normal check with tax and gratuity.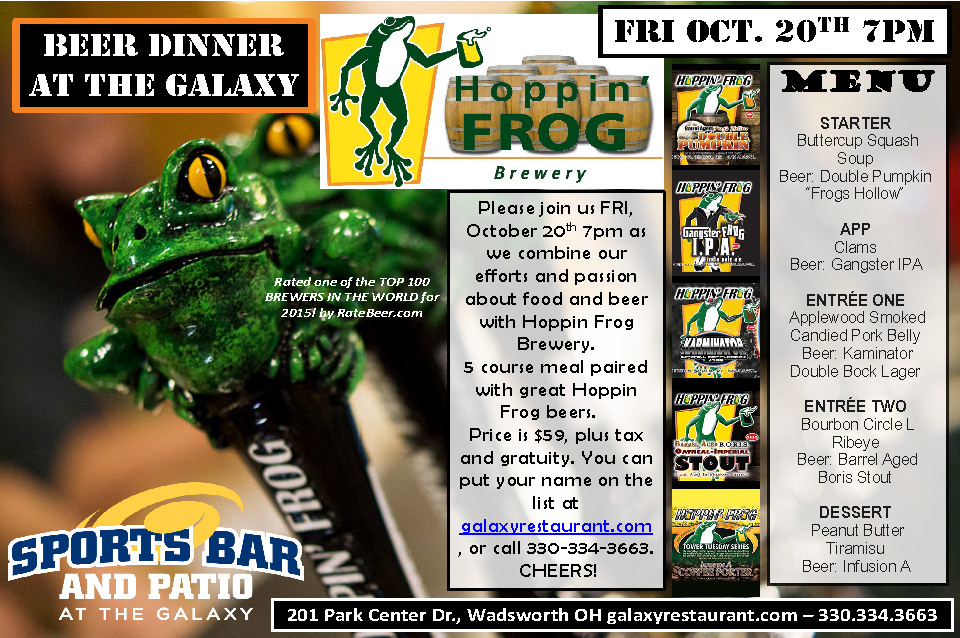 Ticket Information
To view available seats and/or purchase tickets for this event, please enter the number of tickets and press the 'Continue' button.