Halloween Bash at the Galaxy W/ NEW WAVE NATION - Friday, October 27, 8:00 PM
The Galaxy Halloween Bash, an annual tradition. Live music with New Wave Nation, the premier 80's band and and all inclusive party with food and beverages and costume contests with over $1000 worth of prizes in a judges panel format. This event is co-sponsored by 97.5 WONE and TK O'Grady will be our MC host for the night. Join in the fun!
Schedule:
Doors open at 8PM
Food 8PM to 11PM
Open Bars 8PM to Midnight
New Wave Nation Band start at 9PM
Costume Contest approximately 10:30PM
Costume Contest:
This year we change things to a new format. All costumes will compete in one main class and we will award the top 5 places with prizes over $1000 including $500 cash for #1.
Judge Panel:
1) Michael Reynolds - Post Newspapers
2) Lisa Reynolds - Highland Schools
3) Janie Parish - Wadsworth Area Chamber of Commerce
4) David Parish - Buckeye Schools
The Party:
We will feature a wide variety of foods, full service bars and plenty of seating in the entire Galaxy ballroom. The place will be decorated up and rocking with the sounds of New Wave Nation. Tickets for this special event are $50/person which includes food and open bar, or if purchased by Monday October 23rd, the price is $45/person.
Menu:
Mini Reuben Pierogies
Shredded BBQ Chicken Sliders
Pork Pot Stickers
Buffalo Chicken Mac and Cheese
Vegetarian "Taco Pizza" and Carnivorous Taco pizza
Sweet and Sour Meatballs
Franks in Blankets
General Tso's Shrimp
Beverages:
Full service bars with a variety of beer, wine, and liquors will be available along with sodas, iced tea, and coffee.
Hotel Packages - We've made special arrangements with both hotels for deep discounts for this night. Right next door across the parking lot, our Holiday Inn Express and Comfort Inn & Suites allows you to make a night of it! Call the hotels direct for special rates and mention the Galaxy Halloween Bash to get the special discount rate, good only for Friday October 27th.
Holiday Inn Express, Wadsworth - 330.334.7666
Comfort Inn & Suites, Wadsworth - 330.336.7692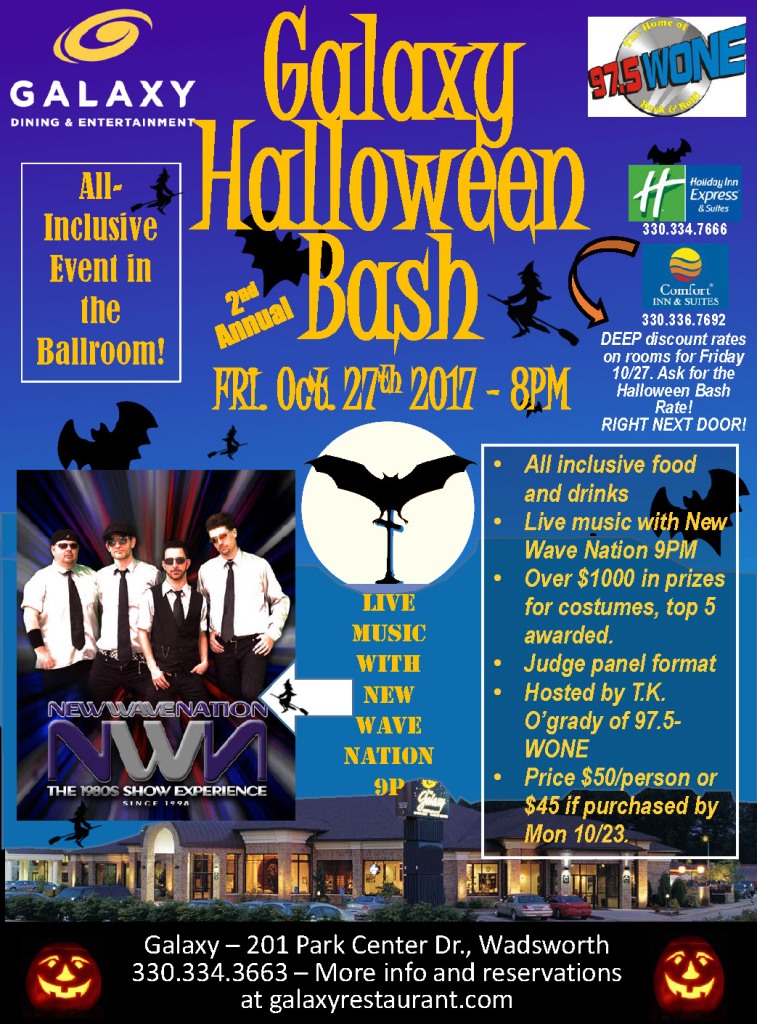 Ticket Information
To view available seats and/or purchase tickets for this event, please enter the number of tickets and press the 'Continue' button.